I have never been great at sport or athletics, and coming from a 'sporty' family I never really could compete with my brother or my farther. My brother played county level tennis and badminton, keen at hockey and football, and in his youth my father was picked to play for rugby for England.
Living with them it did help foster a healthy level of competitiveness in me, but also a sense of when you just need to walk away because it of a hopeless chance of winning, or die of boredom watching sport on television. Typically, when the sport came on the TV – and I'll be perfectly honest I would rather hide away and programme a computer than torture myself with wasting a day watching cricket. It was quite a male dominated upbringing, and all male sports and leadership – I suspect like so many childhoods form the 70's and 80's.
But things are changing. And two things are changing now – women's equality and the focus of top class sports where women are being recognised for how equally talented they are, and also the focus on LGBT diversity and acceptance.
Changing Minds
The IOC is not a shining example of an organisation – it has been fraught with corruption allocations, mismanagement, and cronyism on a national and international level – but as an event it does raise awareness like nothing else on the international stage and progresses the world agenda to be fairer and more tolerating of differences within the human race.
It was not until 1992, and only after South Africa was making progress with their struggle with black rights and equality they were allowed to compete in the games in Barcelona (a ban spanning 4 decades, so you might say very slow progress!).
We also cannot forget the Paralympics. They had been going for a number of years, but the first with any massive significance was in 1976. This included people with a range of disabilities and not just war veterans and followed on after the games. It should also be noted that ONLY the Paralympics organisation has banned the entire Russian team from performing due to their state-wide cheating (another type of equality).
Women's Equality
There is still much to do. But the pressure is on for women's equality. Challenges around commenting on how a woman looks or who her partner is (and 'his' name). The pay gap between women and men in sport is also being highlighted, time and time again – and this is reflected in real-life in everyday jobs too.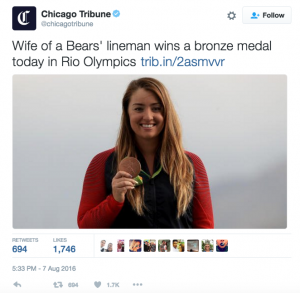 The media coverage of the Olympics is still very my focussing on the men – and when it does focus on the women is does not always get it right.
The Chicago Tribune's headline "Wife of a Bears' lineman wins a bronze medal today in Rio Olympics," putting her martial status and husband's job before her own athletic accomplishments. Who was this woman? Did her husband teach her?
It got lambasted on social media. And there are many more examples.
LGBT Equality
This leads on nicely to something else. Out LGBT women in sport seem to be higher than out LGBT men in sport. Just taking a look at the list of the 2016 Olympians – 31 are women, and only 11 are men. Why?
With zero openly out gay footballers in the "MENS" Premiere League – maybe you cannot be a gay male footballer – are they mutually exclusive? Maybe it's about the perception that you have to be 'a man' (i.e. not gay) to play sport? I suspect it's about fear, hatred and ridicule.
Men are simply not doing themselves any favours – missing out on sporting and athletic talent that is not excelling because of the fear of being "outed" in top class sport? (that's about 10%).
If you look at the number of openly gay women in sport it is much closer to the statistics to the general population. As a woman, you don't have to be "stereotypically" gay to play sport and compete at the highest level.
LGBT together
It might have been the trans-women that lead the Stonewall movement back in 1969, and gay men in the 1980 and 1990 with the HIV/AIDS epidemic, but it is be the women who out who are pushing the LGBT agenda now and taking down the gender barriers that will benefit EVERYONE.
The LGBT community has been pushing forward, and making big changes. Marriage equality, acceptance of being able have openly same-sex relationship in public, trans people being seen as people – but there is still a long way to go.
History tells us that the Olympics provides a great spotlight for highlighting inequality on race, sex, disability, and LGBT.
So right now Take every opportunity to call out gender bias against women – and let's push this over the edge and get real equality for women and the LGBT community.
References
https://en.wikipedia.org/wiki/Stonewall_riots
http://www.avert.org/professionals/history-hiv-aids/overview
https://en.wikipedia.org/wiki/LGBT_Olympians#2016_Summer_Olympics