Running a business you get asked all sorts of questions, often about the services and products you provide. I'm pretty fluent in what we do. This week I was asked what 'good looked like' when managing a large programme – it's a question I've been asked many times, in different ways, over the years.
I was usually relaxed, and for some reason I dropped my guard and instead of answering the bland processes, structure, finance, on-time, on-budget, people, communication, stakeholder management etc. – from nowhere I just came right out with…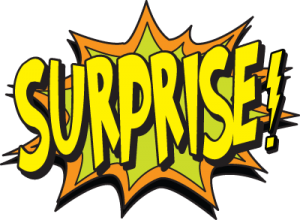 "No surprises".
The irony being, I surprised myself. But what do I mean when I say "no surprises" in programme management?
Get the basics right with high expectations
Processes and structures of the programme are keeping everything in check – they need to exist. Finances are detailed and understood. Risk and issues are documented and owned. The team, people and resources with the right skills, at the right time. Supplier working in partnership (or on the risk log). And of course all the projects and workstream plans in place – working and delivering together. Regular, relevant and realistic reporting from key areas – this sets an expectation and the drumbeat. The basics of good project and programme management need to be in place.
Having data and information available at your finger-tips is really critical. Focus on the details that matter, and it all matters.
Delivery and actions sets a rhythm of progress
Programmes need to move forward, they should never be standing still – they need motion, pace and rhythm. Things need to be flowing, visible movement in delivery on every workstream, project and work package that might make-up the programme. Time moves forward, money is being spent – so if delivery is not being made – things are going backwards.
Sometimes the scope changes, stakeholders move on – but these should never stop the delivery or actions required to move forward. Flow is critical – the direction might change but the pace should stay the same. Just like pushing a car, starting off is hard – but with the momentum it just gets easier.
Procrastination is not an option. Data and information, providing facts and absolute transparency help increase decision making; this is why getting those basic right is critical – information at your finger-tips.
Don't let issues get ignored, and call out people 'kicking the can down the road' – doing nothing should not be the default.
A culture of trust and confidence
Your stakeholders must have trust and confidence in your ability to manage the programme. Open, honest relationships foster trust – they give you valuable information on strategy, finances and politics – and help foresee organisational issues that can affect your programme.
The trust and confidence also extends deep into the programme team. With multiple workstreams and projects making up the overall delivery objective – everyone needs to have the trust and confidence in the people they are working with. The ability of the programme leaders to instil this culture is critical to the success of everyone.
When you're working in a complex environment, with multiple work-streams, you have to be ahead of the curve. Seeing, hearing and more importantly understanding the issues that are coming into focus. This is where the relationships are critical – your team (and stakeholders) will be more open about issues rather than hide them. Absolute transparency is key.
Programme management might be supported by process and structure, delivery and actions – but it's not robotic. People and relations matter.
No surprises! Really?
Thing will go wrong, of course, it's the nature of delivery. Not everything goes to plan. But, it is how you anticipate and deal with those issues that separates good programme management from the not so good. It's about having sight of the all the key issues, and mitigating them (as best as possible) before they can happen.
Get the basics right – process, structure and reporting
Ensure delivery is always moving forward and decisions are being made
Build a culture of trust and confidence
Good programme management is all about delivery and anticipating problems is not an art – it's a science (and you need all data and information at your disposal to predict and mitigate them).
Additional Notes
It really isn't an art, and experience helps enormously. If you are new to managing projects or programmes, or you've been doing it for a while jsut by learning 'on the job' then I would really recommend some more structured learning on methodologies like PRINCE2 or AMP – you can get some really great value online courses!