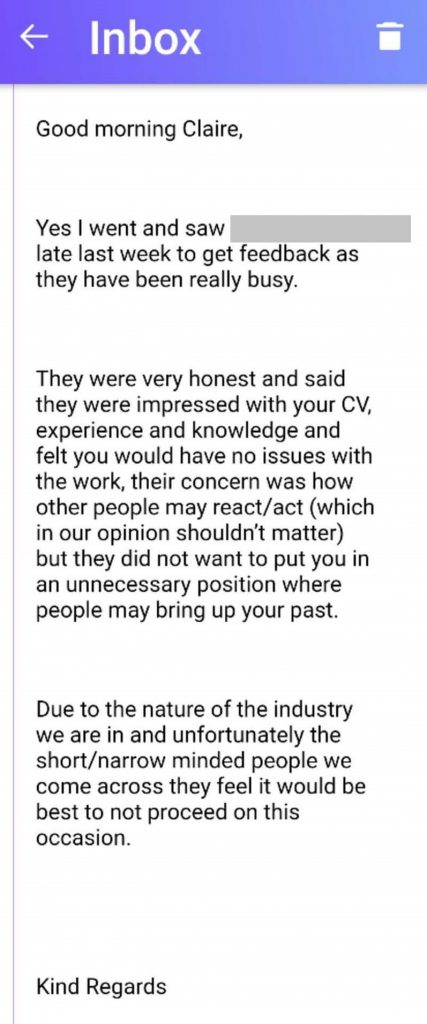 This week on my social media one of my connections posted up a copy of an email they had received from a recruitment consultant about a job they applied for. The email was feedback on their CV from the client.
The CV was "impressive" and ideal for the role, but also that the customer was not going to proceed with an interview. The email continued.
The customer had concerns how "other people may react/act" and "they did not want to put [them] in an unnecessary position where people may bring up [their] past".
They are trans.
They didn't even get through the door for an interview, firmly closed, due to their trans status.
This discrimination happens all the time, most of the time under the radar.
And unlike the glass ceiling, trans people are not worrying about promotion they are simply not getting though the door.
It's Not You, It's Me
Do you think the employer in the email had been discriminating because their company was unable trust their existing employee to behaviour appropriately?
No, this company actively discriminated against someone because of their gender identity. Blamed them, and then blocked the potential employee because of their inability to train and promote diversity in their own organisation, and their own conscious bias and discrimination towards transgender people.
And what about the recruitment agency? Could they have dealt with it better? Firstly, the candidate was open about their trans status. Should the candidate have even revealed this to the agent? And then should the agency have revealed this to the potential employer?
I ask Lucy Mavers from Badenoch and Clark about her feelings on how recruitment agencies should be working with employers who actively discriminate. She said they "have a duty of care to our candidates and an obligation to speak truth to power and call out clients on any discriminatory behaviours; conscious or un-conscious."
Trans is not choice, transphobia and discrimination is.
Lucy went on to say "Recruiters have the opportunity to champion change in this area, they need to be braver and embrace the role that they can play in creating a fairer work place."
Reality Check
When I began my transition in September 2015 I was also looking for work. It was difficult and challenging, and at first I often felt obliged to lead with the fact I was trans. The need to lead with being trans is often about confidence in your new gender; on how you sound, and how you look.
I have no doubt from conversations I had with many recruiters and potential employers that my gender identity prevented me getting employment, it was never overt but nuanced and subtle. Laws do protect against discrimination, but only when their is sustained evidence.
Carol Rosati OBE who leads the D&I initiatives at Harvey Nash expects "both consultants and the people they are recruiting [for] have a duty to address their biases unconscious or otherwise so that the best person from the widest talent pool possible gets the job regardless of any diversity box they may tick".
Carol is right, talent comes in all forms. If you actively discriminate against someone because of your own biases you are unlikely to be selecting the best person for a job.
She continued "All of us are multi-faceted and it's high time everyone leant to accept that!"
In early transition, but also for many trans people through-out their lives, the 'mis-gendering' and confusion from a lack of understanding around trans issues of recruitment managers ensures many roles are firmly closed off from very talented people, because either the recruitment agency or the employer is unable to see beyond the candidates gender identity.
What Can We Do?
Firstly, if we can all stop discriminating against trans people, or anyone from a diversity background that would be wonderful. But also not realistic, for now at least. Discrimination will only stop, when people understand diversity and call it out when they see it.
Train Your Staff – Diversity training is not only good for the diverse people in your organisation, it is also good for your organisation. An organisation with a diverse workforce is proved to be more profitable, efficient and employees are happier; win:win for everyone.
Challenge Your Unconscious Bias – Is the current trend for everyone. Why, because it's important to get the right people through the door and in the right roles. Stop recruiting people who are like you, and start recruiting people like everyone else (i.e. diverse).
Don't Question Someone's Gender Identity – People are people. Their gender is none of your business and irrelevant to if someone can do a job or not. If you are privileged enough that someone reveals a gender history, treat it with the respect. It's not gossip or a subject for discussion.
Challenge Discrimination – If you witness discrimination during recruitment, then call it out for what it is. As a recruitment agency you have a duty to protect your candidates from discrimination. Someone's trans status is no barrier to be treated fairly by a potential employer, and choosing to work with an employer that openly or overtly discriminates more than suggests collusion.
Conclusion
I shall leave you with Carol who told me "Prejudice is borne out of ignorance, lack of knowledge or even familiarity. The trans community is full of courageous, self aware, amazing people – why wouldn't you want to have such an individual on your team? We all learn from others and the dullest team is one full of people just like you."